by Shadd
(Lavigne, Ontario, Canada)
Look, I love mommy's tenor saxophone case!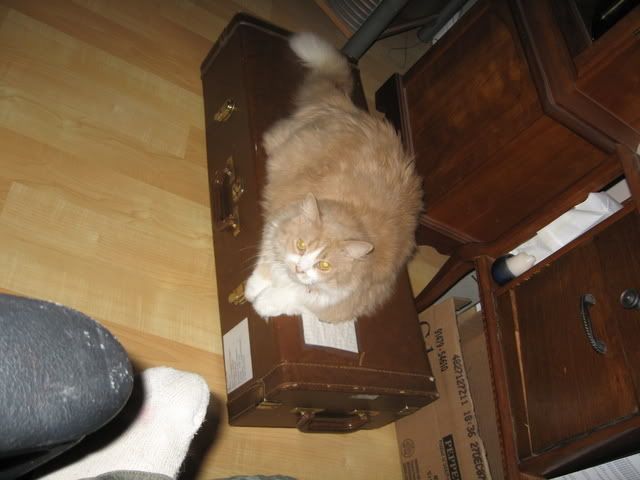 Hi, my name is Danielle but most of my friends call me Shadd. It's an old nickname. I stumbled across this site when I searched cat sores on google. I found the article I needed, this one. I hope her sore will go away soon!

This is my cat, Cuddles. I call her Mouffinn because I tend to have a habit of calling everyone "Muffin" as a nickname, but I tripped once when I said it, so it came out as Mouffinn. The name stuck. I'm seventeen, going on eighteen, and I've had her since I was six.

She is eleven years old now and her birthday is November 11th. She was the runt of the litter; can you believe that? She's now the biggest of all her siblings. I didn't choose Cuddles; she chose me. Or perhaps we chose each other? Who knows, but either way, she's always been there for me, even when times got tough.

She was born under the porch of my father's friend's home. We suspect she's an Angora Persian, but we can't say for certain. Either way, we love her to bits. She's a total mommy's girl, and she knows it. She talks to me, tells me when she wants her litter changed, tells me when she wants food, and even mouths off occasionally. She sleeps next to me every night, though she'll go and check on my father every so often throughout the night. She's a big snugglebug, and she absolutely detests meeting new people. We've tried to wean her off of that habit, though. It's taking some time.

She has a terrible habit of picking which pieces of food she wants to eat. She'll actually take the time to sort through her favourite-flavored hard cat food and leave the others in her bowl. She doesn't like to drink out of a bowl. No, that's far too old-fashioned. Mouffinn likes to drink from a watering can that she demands be changed every three days or so; Not that we don't change it either way.

She's incredibly soft and her favourite toy is a three-way-tie between any writing utensil around the house, tin foil balls, and ribbon on a stick. She loves to sleep on top of me or on her bed (a body pillow with a towel folded on top). Did I mention she has a towel fetish? She used to pull them off the backs of chairs (where we let them dry) and sleep on them. Unlike most cats, she doesn't like warm laundry... But she does, however, absolutely adore boxes. Even if she can't fit in them, she tries to make herself do so. It's quite amusing, actually. She is absolutely terrified of the vacuum cleaner, which we've aptly nicknamed "The Monster," and goes running whenever she sees it. She'll hide until the sound of it has stopped and it's been put away, and then she'll emerge from her hiding place. She also has a knack for opening drawers and cupboards with one nail. She'll actually spend an hour simply trying to open a drawer to lay in it for a few hours. Oh, and she can't hide where she's been; she leaves a nice orange trail of fluffy fur wherever she goes!

Like most people, my cat has a three-strike policy. She'll warn you three times before she finally gives you a whap, and after that, you can approach her at your own discretion. My father and I both warn all that dare to annoy her that we are not responsible for any missing phalanges. So far, no one's lost any fingers, but the days are being counted.

My cat also dislikes when I go away from home, for even as little as a weekend. She likes to follow me like a puppy when I get home if I leave for a week or more. Whenever my father or myself is sick, she'll glue herself to us and keep us warm if we're shivering. She occasionally tries to groom my hair, not that I mind all that much. She loves being rough-handled, but she also loves being pet gently. Almost all of my friends fall in love with my cat as soon as they meet her, and she is a wonderful judge of character. She has loved every close friend of mine who is a true friend and disliked those that are not loyal friends.

Mouffinn has some pretty interesting music tastes. I am a musically-inclined person and have played the flute for eight years now. Gosh, that seems such a long time! She absolutely loves it when I sing for her or play my flute. She does not like the sound of my tenor sax, but does not mind when I play clarinet. She is not fond of piano, nor is she fond of electric guitar. She loves when I play my acoustic guitar though. The sound of her food container being shaken is music to her ears. We know this because that is the only time we'll ever see her running... unless it's from "The Monster," of course!

Here are some more pictures of Mouffinn, even though she hates it when I take her picture. Heh.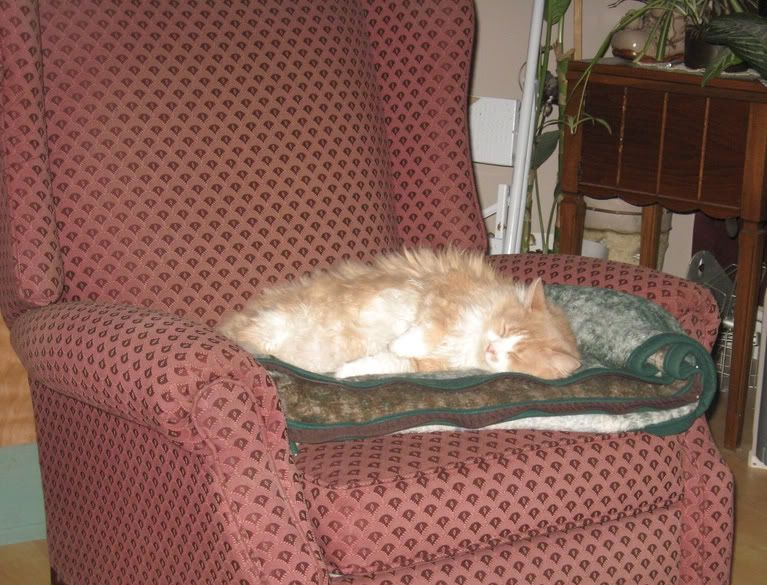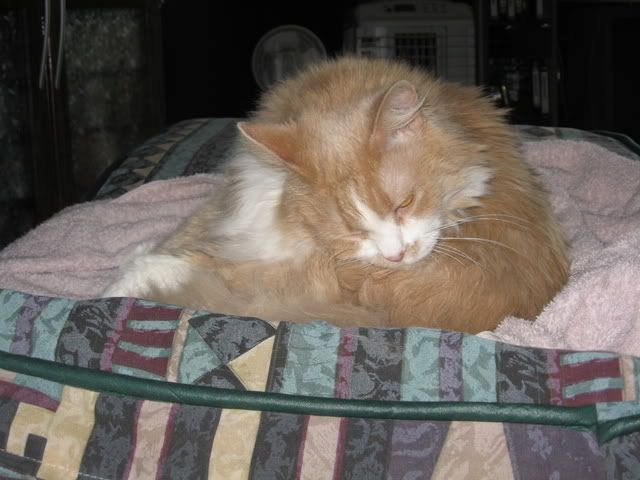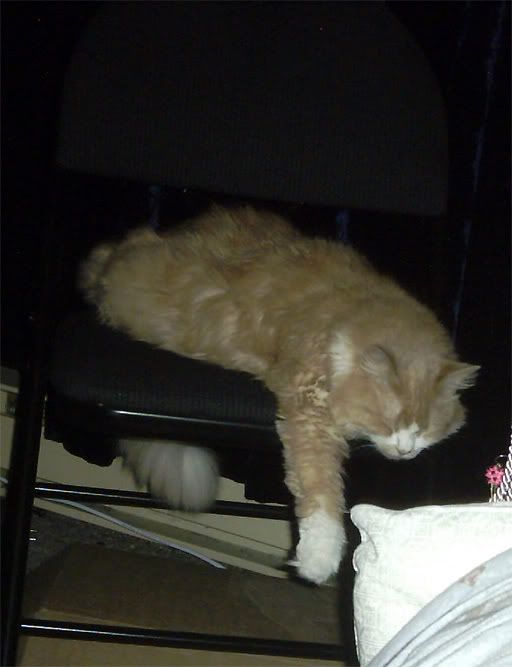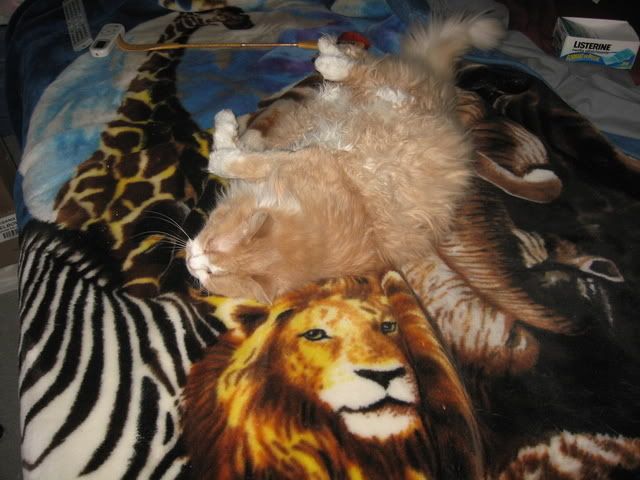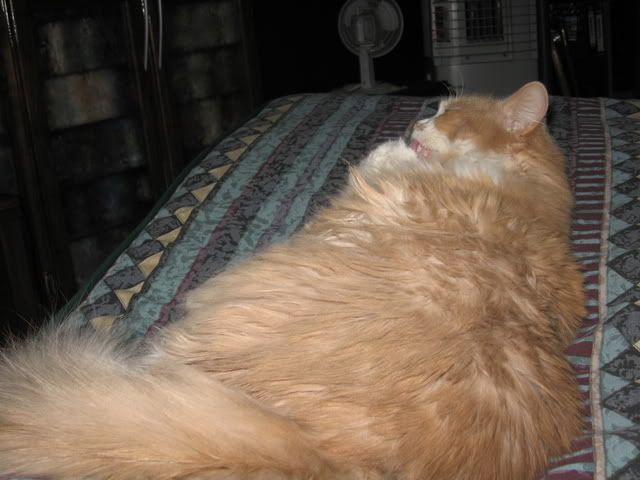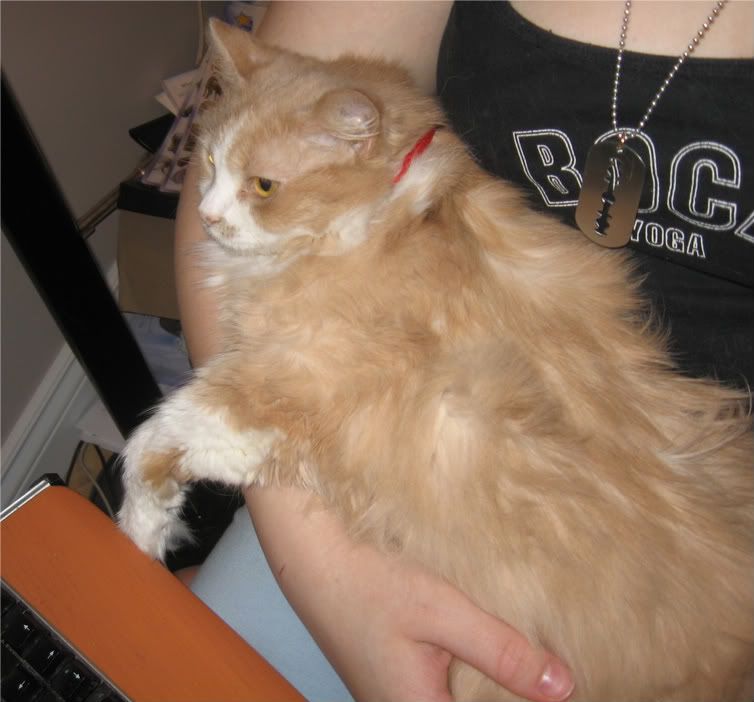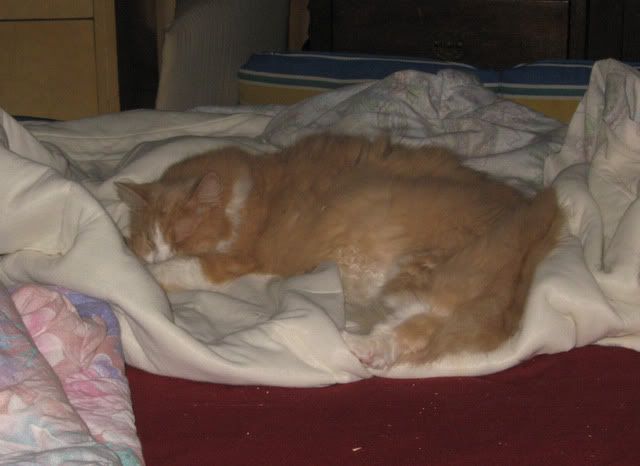 Comments for Hi, my name is Cuddles, but you can call me Mouffinn!